Stage Nomad Production's Play Called 'Rehearsal' to Target And Highlight Hypocrisy in Our Society The play which has been titled as 'Rehearsal' will focus on bringing to the limelight the harsh realities of our society. 
As far as what has been revealed about the play, this is what we know, a traveling amateur theater troupe makes an unscheduled stop at a village. To pass time, a mock trial of a fellow cast member is staged. During the course of the mock play, she is charged of an affair with a university professor. This is when the humorous accusations transform into personal charges, and the situation takes a vicious turn. The protagonist lady finally breaks down, and reveals the true story behind it all.
The play is written by Vijay Tendulkar and directed by Meesam Naqvi. Rehearsal will star emerging talent going by the names; Hammad Ather, Faizan Fazal, Faiza Mehmood and Yogeshwar Karera amongst others.
Rehearsal is set to target and create awareness about a topic which is considered a taboo in a society like ours till date i.e slut shamming. The issue is widespread and needs to be highlighted in creative manners, which is exactly what Stage Nomad Productions have set out to do.

Here is some detail of the Cast:
Faizan Fazal as Selsun Mathew.
He is an outspoken, proud man who wears his colourful personality on his sleeve. His mediocre academic qualifications in life have never stopped him from being the person who stands tall, and walks with his chin in the air.



Mushk Kaleem as Begum Nawab.
A traditional minded orthodox and authoritative married woman who believes that modernisation of women is no less than a sin in her own eyes as well as those prying ones of the society.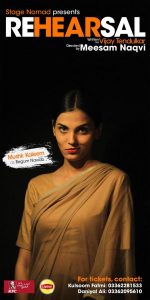 Yogeshwar Karera as Saamant.
A kind and innocent villager who respects and fears authority and loves interesting stories, lets see how his role brings a twist to this rehearsal!



Moiz Khan as Kavish Khan!
A comical, animated actor, who doesn't let anyone or anything steal his moment in the spotlight, and firmly believes in being the hero of every minute of everyday.



Faiza Mehmood as Saba Aazmi.
A carefree woman who lives life on her own terms. She has been through a lot in her life and doesn't allow anyone to intervene in how she wants to live it. This makes her a constant victim of finger pointing and shaming by the society resulting in her character becoming a taboo.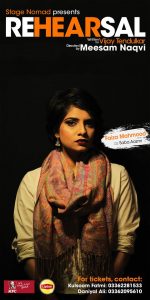 Syed Shah Hasan as Kazmi Sahab.
Lawyer by degree and Actor by profession Kazmi sahab is a sinister finding satisfaction only in the misery of others. He will go to any length or better yet stoop to any level to get what he wants.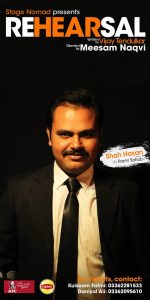 Hammad Ather as Nawab sahab.
Being the owner of the theatre group, Nawab sahab thinks of himself as a great social worker who is trying to get rid of the evil that has crept into the society. It is his such qualities that make him the most respected member of the troupe!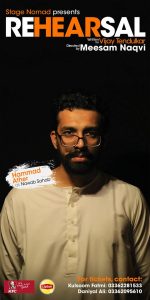 Stage Nomad Productions is set to put on a show very soon on 13th and 14th December in JS Auditorium at IBA City Campus. 
For details please message us on their page – facebook.com/stagenomad