SIMPLY SUFI XPRS Second-Anniversary 2 Good 2 be 2 Celebration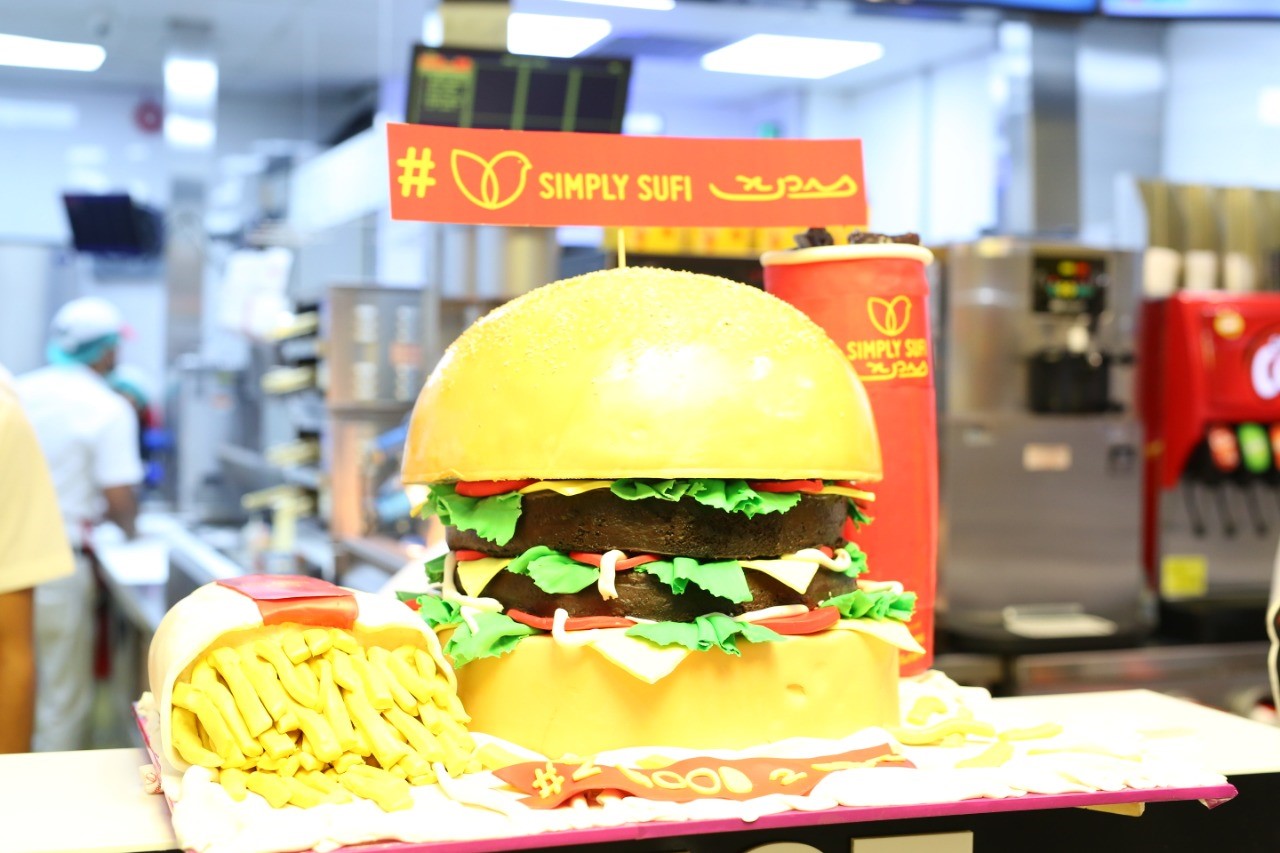 SIMPLY SUFI XPRS, our very own home-grown, premium fast-food chain just celebrated their Second Anniversary at Emporium Mall Lahore. And it was one of the most fun evenings I've had in a while.
From party games to sing-alongs, there was so much to do.
And to our surprise, SIMPLY SUFI XPRS released a brand new limited-time-only SIMPLY SUFI XPRS Anniversary Deal to commemorate their second anniversary. For only Rs. 599 you get a delicious meal of an XPRS Chicken Burger, 6 XPRS Chicken Wings, 2 Regular drinks and 1 Regular Fries. My mouth is already watering just talking about it!
The amazing event was hosted by none other than the fantastic RJ Rizwan. The always fun RJ kept the audience engaged and excited all evening. The audience, included who's who of Lahore's social media influencers.
Let me tell you, I have not seen such a photogenic crowd in a while now!
Also in attendance at the event were kids from the SOS Children's Village, a non-profit that provides a home to orphaned children. As long-time sponsors, the SUFI Group have made it a point to bring a little more light into these children's lives by bringing them along to enjoy the festivities at their events.
I love it when a big brand celebrates their achievements by giving back to the community. It's a real feel good moment.
Throughout the event, fun activities for kids were taking place at the SIMPLY SUFI XPRS. SOS kids and children from the crowd could jump in to play games, meet the giant chicken, have their faces painted, take pictures and do some coloring.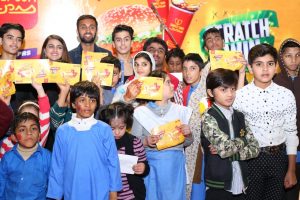 And SIMPLY SUFI XPRS made sure that their activation area was star-studded throughout. The first stars to show up was the cast of the well-known TV serial Chanda Taray. Not only did they chat with the crowd and take photos, but they also regaled the crowd with songs and comedic skits.
And let's not forget the beautiful and talented superstar Sarwat Gilani, who spent some time taking pictures with the crowd before joining RJ Rizwan for a quick chat. She was thoroughly delightful as she talked about how much she and her family loved eating at SIMPLY SUFI XPRS and how much she was enjoying the celebrations.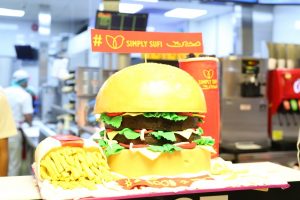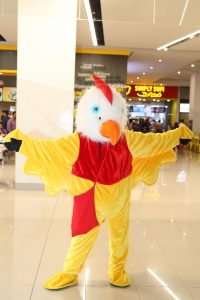 After her talk with RJ Rizwan, Sarwat was taken around for a tour of the facilities and was very impressed by how organized the set up was and how well they met international standards of hygiene and quality.
At the end of the evening, the SIMPLY SUFI XPRS team brought out a giant cake for a cutting ceremony. And this cake, shaped like a giant burger, was one of the most amazingly well-done cakes I have ever seen.
It tasted delicious, by the way.
But that's not all, the senior management of SIMPLY SUFI XPRS give a short speech about the accomplishments of the brand and their future goals. These plans include the launch of their first outlet outside Lahore at Giga Mall Islamabad!
Talk about ending the evening on a high note.
If hearing about the event is giving you FOMO, don't worry, you can still grab a share in the festivities by ordering a SIMPLY SUFI XPRS Anniversary Deal from your nearest outlet. You can also be a part of their scratch and win contest (from 11th November – 31st December) by ordering a meal from SIMPLY SUFI XPRS to win amazing prizes.And for those of you not living in Lahore, just wait a little longer because SIMPLY SUFI XPRS is coming soon to a city near you!