Shoaib Akhtar Comments On Sarfaraz Ahmed's Fitness, Sparks Debate Regarding Body-Shaming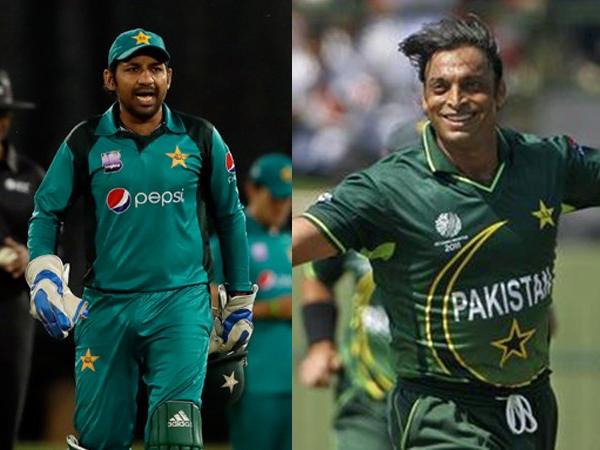 Only recently, Shoaib Akhtar has criticized Sarfaraz Ahmed severely for his unfit physique.
Akhtar talked about the deteriorating fitness level of the captain. He further went on to say that he's the least fit captain in the history of Pakistani cricket. While describing Sarfaraz's physical appearance, Shoaib said, "Itna barra pait hai uska aur itna barra moun hai uska." Shoaib also mentioned that the current captain has serious issues while moving across the field.
You can watch the video here:
https://twitter.com/emclub77/status/1134511159971864576?ref_src=twsrc%5Etfw%7Ctwcamp%5Etweetembed%7Ctwterm%5E1134511159971864576%7Ctwgr%5E393039363b74776565745f6d65646961&ref_url=https%3A%2F%2Fwww.mangobaaz.com%2Fshoaib-akhtar-commenting-on-sarfaraz-ahmeds-fitness-has-started-a-heated-debate-online-regarding-body-shaming
While Akhtar has tried to make a valid point about how the players need to stay in shape if they want to make it towards the win, there is always a way to say certain things without being unnecessarily harsh. Blatant body-shaming carried out by an otherwise well-respected cricketer. It is, by all means, disappointing.
Here's what people have been saying:
Harsh – Shoaib Akhtar "When Sarfaraz Ahmed came for the toss, his stomach was sticking out and his face was so fat. He's the first captain I've seen who is so unfit. He's not able to move across and he's struggling with wicket-keeping" #CWC19 #PAKvWI

— Saj Sadiq (@SajSadiqCricket) May 31, 2019
Shoaib Akhtar body shaming Sarfraz Ahmed during the ICC World Cup 2019 is without a doubt the lowest thing I've ever seen.

Such remarks coming from a former senior cricketer for the Captain of the Pakistan team is beyond pathetic.

— who's this 🇵🇰 (@Samreeen_) May 31, 2019
Shoaib Akhtar's video negative video message about Sarfaraz Ahmed comes at a time when the team needs positive energy around them. 1/2

— Raza Haidery (@razahaidery90) June 1, 2019
Yet there are also those who believe that the players are being payed to stay fit and must do so, hence the criticism wasn't misdirected.
It's not body shaming when the person in question is getting paid to be fit. If he even can't do that, why is he in team pocketing millions of tax payers money. Irony is he is not just a player, he is captain of the team. Get fit or get out Sarfraz https://t.co/MqvSS6kTmS

— Zameer Maan (@ZameerMaan) June 1, 2019
Body shaming is wrong but i kind of agree with Shoaib Akhtar professional players should be fit,they are representing their countries and setting examples to young kids. #CWC19

— Keerthana Nair 🇮🇳 (@KeerthanaNair1) June 1, 2019
I don't know if y'all started watching Cricket yesterday but the Game is all about fitness. Shoaib Akhtar's criticism is on spot. I don't know why you'll considering it body shaming.

— Umar (@LegitGuy_) June 1, 2019
What do our readers have to say about this debate? Share your thoughts in the comments section below.