Shahrukh Khan And Malala's Interesting Exchange on Twitter Kept the Internet Abuzz Today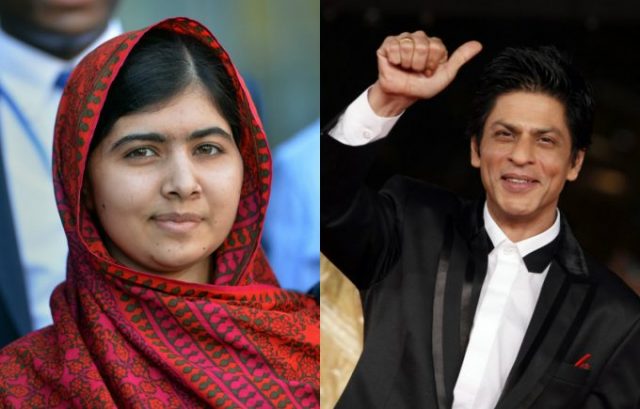 The Internet was abuzz today with the news of an interesting exchange between Shahrukh Khan and Malala. 
Bollywood superstar Shah Rukh Khan has said on Twitter that meeting Malala Yousafzai will be a privilege.
The King of Bollywood's comment came in response to a tweet posted by the Nobel laureate who had invited SRK to a talk at Oxford University (where she is currently studying).
It was back in November 2016, when the Principal of Oxford University Alan Rusbridger had initially invited SRK to talk to the students at the prestigious varsity.
"Can we tempt to Oxford University to talk to our students at Lady Margaret Hall? They love you (I'm the principal)," Rusbridger tweeted to the Bollywood superstar.
Malala then quited Rusbridger's tweet, and wrote to SRK saying, "Still waiting!!!!"
Responding to Malala, SRK said, "Most certainly would love to do it and meeting u will be a privilege."
"Will put my team to schedule it sooner than soon," he further added.
Still waiting!!!! @iamsrk ? https://t.co/4dof6KAFlI

— Malala (@Malala) October 7, 2018
Most certainly would love to do it & meeting u will be a privilege. Will put my team to schedule it sooner than soon https://t.co/hX9b0ghJxL

— Shah Rukh Khan (@iamsrk) October 7, 2018
People obviously couldn't help but respond to Malala's luck on receiving a response from King Khan
https://twitter.com/SRKsSamina/status/1048968469260263431?ref_src=twsrc%5Etfw%7Ctwcamp%5Etweetembed%7Ctwterm%5E1048968469260263431&ref_url=https%3A%2F%2Fwww.mangobaaz.com%2Fmalala-yousafzai-just-got-shahrukh-khan-to-respond%2F
Can't wait Nov 2nd..srkians fastival .love u khan saab ?? pic.twitter.com/AB5So1XMzd

— zeeshan Srkian (@ZeeshanSrkian) October 7, 2018
You as a global icon and Indian Super star citizen agreeing to do sooner than soon at Oxford is yet another great step from a sweet and highly articulate Bollywood leadership in you.

— C. S.Rao (@SIVARAO1754) October 7, 2018
I never need an excuse to visit beautiful Oxford and I certainly won't need one if you're coming to visit ?
Love your speeches and hope I can be in the audience.
Love you ? pic.twitter.com/yvxaVP7Ug5

— LindiArt (@Misty4SRK) October 7, 2018