Pakistan brings Culinary Festival 2016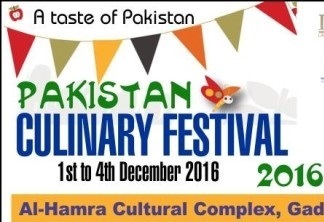 Looks like winter season is also the season of festivals in Lahore, as these festivals are being organized one after another while keeping the Pakistanis, Lahori's especially entertained throughout.
Pakistan is not only the land of beautiful snow-capped mountain peaks, landscapes, weather and cultures but is also recognized for its tasty cuisines and splendid flavors. Hence, the next Festival in line is the Pakistan Culinary Festival 2016 which is to start from 1st December and will continue till the 4th of December, 2016 at Alhamra Cultural Complex Gaddafi Stadium Lahore.
The Festival is to hold a Culinary competition. Along with the competition, professional chefs will be there to share their secret tips, restaurant stalls will be set up, and not only this there will be other forms of entertainment as well. A children's play area, artisan work display, musical evenings, magic shows and lucky draws. Additionally, conferences and seminars will also be held regarding culinary, hospitality and tourism trends.
So for all food lovers, we suggest that you gear up for one of the biggest Culinary Festivals of Pakistan, food and fun filled four days in the first week of December. Be sure to attend it.
You can confirm your booking for stalls, whereas the entry fee is Rs. 200 for adults and Rs. 100 for children and senior citizens. For booking you can contact any of the given numbers:  0322-9490092 / 0320-8000113 / 0332-3822570 / 0320-5090092 
While you can get your passes from any of the mentioned restaurants including; Veranda Bistro, Haveli, Cosa Nostra, Gun Smoke, Subway, Tabaq, The Boulevard as well as OPTP.