"FOR THE SAKE OF EMPLOYEES": An Article By Mohsin Durrani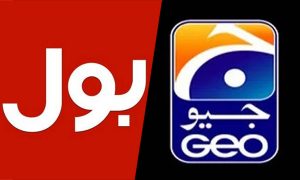 Research indicates that job insecurity reduces both physical and mental health, increases burnout, reduces job satisfaction and decreases work performance. If you're anxious or depressed, it is difficult to be productive or creative. A study in Spain shows that insecurity at work is directly and negatively linked to satisfaction in work and life, as well as affecting performance and commitment
Whether it's about Employees of GEO Network during the ban on GEO Entertainment or a ban or shutdown of BOL TV the fear of unemployment increases "the level of work insecurity rises, people are less satisfied with their personal, work and family lives and they are less committed to their work.
Recently Top Television Channels unite against BOL using Pakistan Broadcasters Association as their carrier to get their partition across to the Chief Justice, Prime Minister and Interior Minister. Over 70 channels have joined the partition including top channels.
In Past PBA to address the job crisis for media professionals at BOL TV which emerged after Axact scandal, the Pakistan Broadcasters Association (PBA) announced a policy of hiring back 'as many media professionals as possible' by member channels of the association. A statement issued by the PBA, an association of the country's radio and TV channels, asked the media professionals to send their resume at resumes@pba.org.pk so that the member organizations of the association could adjust them 'to the best of their capacity'.
Unfortunately, we are unable to understand that PBA at one time realizing the employee's crisis came forward with the very positive solution of hiring back affected employees & professionals is now instead of resolving the issue between BOL/AXACT & GEO/JANG, PBA is taking harsh actions which will definitely bring another crisis for BOL employees which has nothing to do with the war between BOL/AXACT & GEO/JANG Group.
PBA was formed to offer optimum advantage to all stakeholders of the media industry – Broadcast Houses, Ad Agencies, and Advertiser alike! Even though all the issues the industry is faced with are not common, all feel the impact in one way or other. PBA is not owned or influenced by any owner of the Media House or a single Person as PBA is working as an independent body only for the betterment of Pakistan's Media Industry & its related issues with neutrality.
Currently PBA needs to step forward to resolve the BOL/AXACT issue as neutral body considering the fact that if BOL shuts down or banned in both cases thousands of employees will face unwanted unemployment. PBA needs to make a committee with senior members & office bearers to officially start communication with BOL management to find out their grievances against PBA. This positive & bold step from PBA will be considered as a preventive action in avoiding unwanted unemployment of BOL employees & to address grievances from BOL management. In both success or failure, PBA will gain its neutral position & will be in a position to address the whole industry about the real issue.
On the other hand Mr.Shoaib Sheikh who is undoubtedly has a Vision & Courage for bringing revolution in Media Industry needs to understand that the current war between BOL/AXACT & GEO JANG will only affect the employees of both the organisations with great mental & financial losses. We must request Shoaib Sheikh Sahib to start working with PBA considering it as an official Platform working since long time with 99% support from Pakistan's Media Industry & try to find out the way out just for the employees & to bring healthy competition in the Industry.



An Article by Mohsin Durrani (Sales & Marketing Consultant).