Faysal Bank Manager Usman Gohar Dismissed from Service due to illegal activities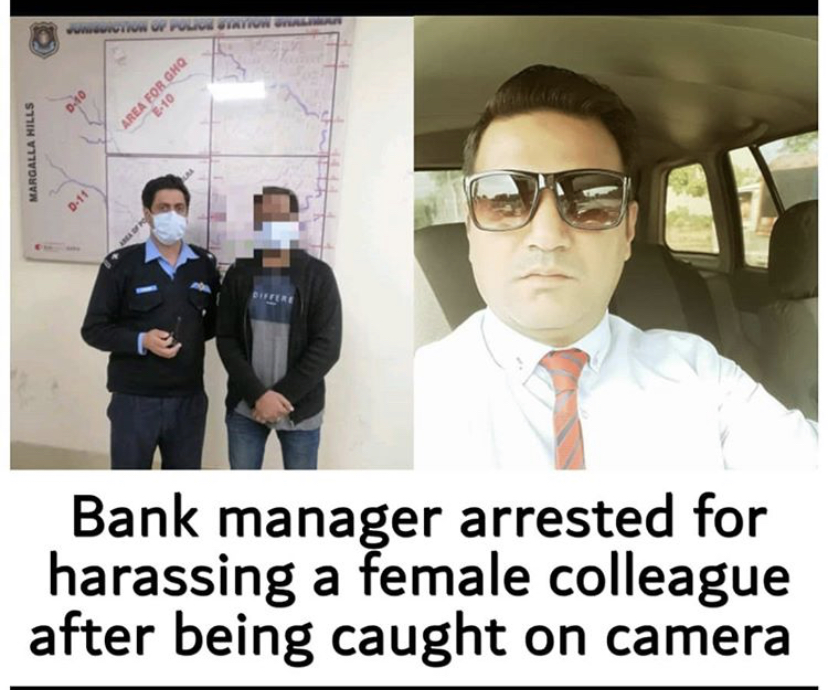 In another case of workplace harassment, Faysal Bank Manager –Usman Gohar –  who was caught on camera inappropriately touching a female employee of the office. A video of him, sexually harassing the girl has been shared over hundreds of times.
He can be seen touching her inappropriately as she is standing their beside his desk.
After the video went viral, people are demanding the bank to take action and sack the manager.  Workplace harassment is nothing new in Pakistan. Most of the time the victims don't come forward because they fear it will tarnish their families' reputation or might even cost them their job.
Girls coming from poor family background who hardly get a job and wants to hold onto it are the easiest target for such people. Let's hope, this person is arrested and made an example.
Usman Gohar Dismissed From Service By Faysal Bank:
In an update shared by the DC Islamabad, Hamza Shafqaat, the culprit has been dismissed from service by Faysal Bank. Hamza Shafqaat went on to add that the police is conduction raids at different places for his arrest.
Bank harassment case update. The culprit is arrested. Excellent work by @DigIslamabad and his team. pic.twitter.com/ctPThst41l

— Muhammed Hamza Shafqaat (@hamzashafqaat) November 7, 2020
He also said that that former bank manager cannot be hired by any other bank in the country as per State Bank regulations..
Moreover, DC Islamabad also requested everyone to protect the identity of the victim.
DIG Operations Islamabad also tweeted about the incident.
Usman Gohar Manager Credit department Faysal Bank F10 Markaz Islamabad has been arrested & shifted to Police Station.
Further legal action being taken. https://t.co/3DX76SZn8d pic.twitter.com/mCPliYWOod

— DIG Operations Islamabad (@DigIslamabad) November 7, 2020
Originally Published by: "ThebetterPakistan".
https://thebetterpakistan.pk/faysal-bank-manager-usman-gohar-dismissed/