Facebook CEO Mark Zuckerberg and his wife Dr. Priscilla Chan put $3 billion behind a new goal: curing disease.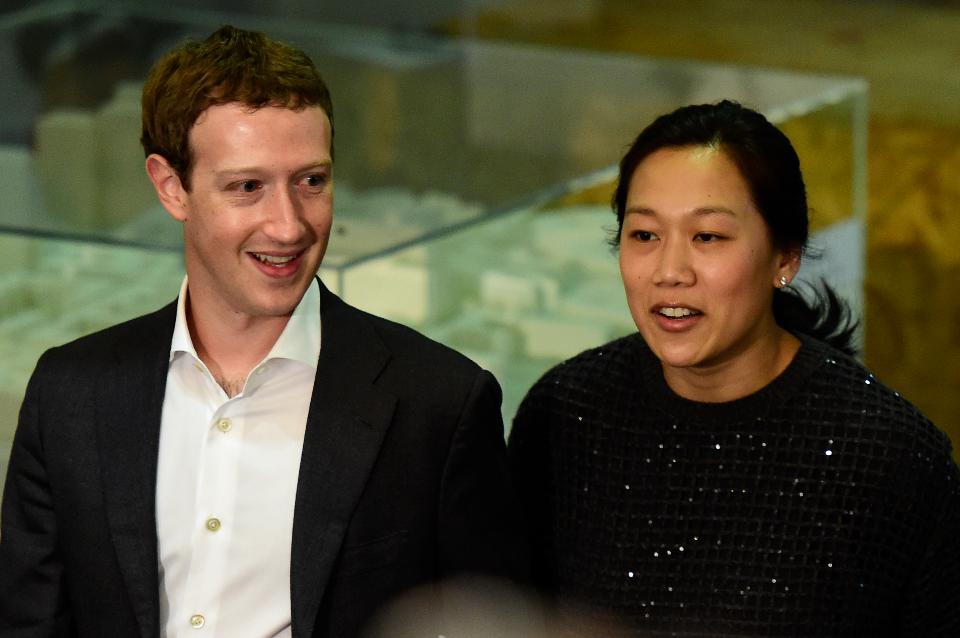 Brand Voice: The Chan Zuckerberg Initiative, the charitable foundation formed by Facebook FB +0.08% CEO Mark Zuckerberg and his wife Dr. Priscilla Chan, will pledge $3 billion to basic science research over the next decade with the goal of curing disease, the organization said on Wednesday.
Chan, a pediatrician, announced the donation at an event in San Francisco. Chan also said the initiative's first science donation will be a $600 million investment in BioHub, a project that brings together leading scientists and engineers from Stanford University, UC Berkeley and the University of California at San Francisco to understand and treat disease. The couple created the initiative late last year in honor of their daughter Maxima.
"We are the limit of what we understand about science and disease," Chan said on stage. "We want to push back that boundary. By investing in science today, we hope to build a future in which all of our children can live long and rewarding lives."
Chan spoke about the experience of telling parents their child couldn't be resuscitated, and about the value of service she learned growing up as a child of Chinese-Vietnamese refugees. She said her husband believe that all diseases can be cured, prevented or managed by the end of the century.
"We believe we can cure, prevent or manage all disease within our children's lifetime," Chan said. "It doesn't mean that no one will get sick, but they should get sick a lot less."

The $3 billion effort will be led by Dr. Cori Bargmann, the researcher and neuroscientist who led President Obama's "BRAIN Initiative." Zuckerberg, who joined Chan on stage, said the donation would be dedicated to three main goals: bringing scientists and engineers together, building tools and technology and fueling a movement to encourage more private and public funding of science research around the world. Zuckerberg said tools built by the initiative could enable advancements, for example, in bloodstream monitoring to detect disease and artificial intelligence software to understand the brain.
"If we can develop new tools, we can empower scientists all around the world to make much faster progress and breakthroughs," Zuckerberg said, emphasizing that the initiative will look for ways to apply engineering to social change. "It is going to take years before the first tools get built and years before they start curing diseases."
When the couple first began exploring their research donation, they initially thought a goal of curing, preventing or managing all diseases by the end of the century was "really aggressive," Zuckerberg said. However, conversations with dozens of Nobel Laureates, researchers and engineers solidified the couple's belief that their dream is feasible, Zuckerberg said.
"We need to be patient," Zuckerberg continued. "We can make a better world for our children and for generations to come."
Billionaire and philanthropist Bill Gates spoke at the close of the event about the positive example set by the Zuckerbergs' donation and commitment to public health.
"It's a magical time to bring this group together to tackle these problems," Gates said. "What's been most fun for [Melinda and me] is meeting people who are optimistic that these problems can be solved. They are inspiring a whole new generation of philanthropists to do great things."
When the couple formed the initiative, they pledged to donate 99% of their Facebook FB +0.08% shares over the course of their lives. At the time, their Facebook holdings were worth $45 billion. FORBES estimates Zuckerberg's current net worth is $55.6 billion, making him the fifth richest person in the world, according to Forbes Real Time Rankings. Facebook shareholders approved a voting structure for the company's stock earlier this year that allows Zuckerberg to donate shares without giving up majority control of the company.
The foundation's limited liability company (LLC), for-profit structure allows the couple to invest in both non-profit and for-profit entities. Last year, the couple said they planned to focus the initiative on "personalized learning, curing disease, connecting people and building strong communities." The couple also promised to reinvest any profits from their investments back into the initiative.
The Chan Zuckerberg Initiative's first investment, made in June, went to a New York-based company called Andela that trains software developers in Africa, particularly in Lagos, Nigeria and Nairobi, Kenya. The initiative led Andela's $24 million Series B round, which was also joined by GV, the venture arm of Alphabet Inc.
Source: Kathleen Chaykowski  FORBES.