Entrepreneur Mela 3.0 in KARACHI
Mark your dates, February 5th, 2023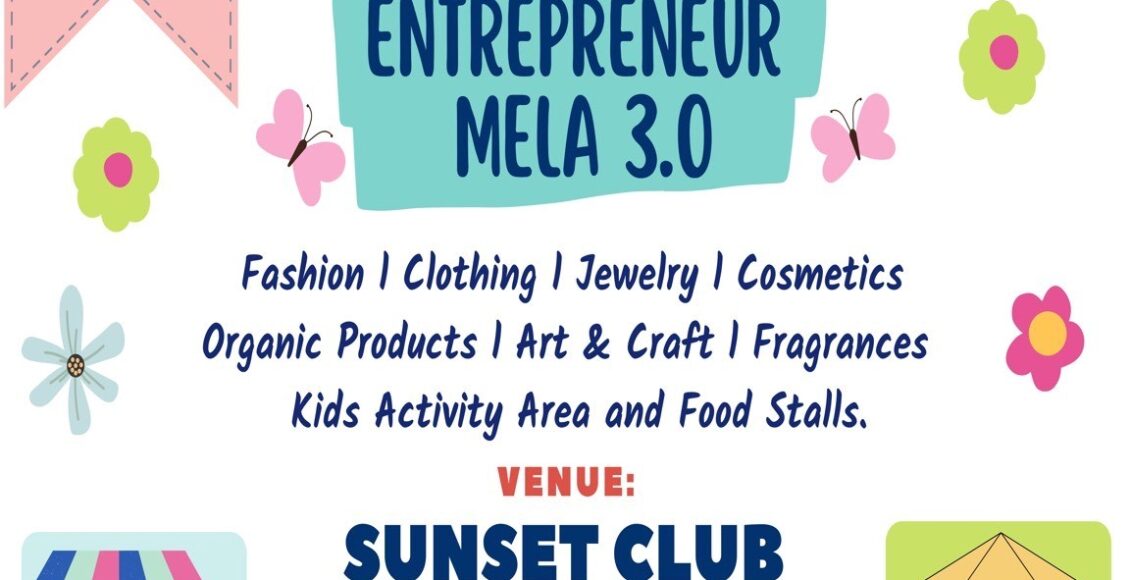 Entrepreneur Divas of Pakistan (EDP) is a social media group which was created for female entrepreneurs in Pakistan with an idea to aid them by providing a platform where they can learn how to start their own business and promote their already existing businesses. EDP is a social media group which has a following of more than of 23000+ followers.
EDP group has achieved a lot of success since its inception two years ago. EDP focuses on giving opportunities to promote their businesses especially those who are working from home. EDP is an entrepreneurial and social group for just women entrepreneurs having their own businesses from different cities of Pakistan to earn and promote their business. Within two years we have held different digital marketing trainings, mentorship programs, meet up sessions, live sessions with experts in the fields of advertising, marketing to doctors for mental health and wellbeing.  We have held exhibitions called EDP Entrepreneur Mela & EDP Family Festival successfully.
Their aim is to provide a place to all female entrepreneurs to showcase and market their products at different levels and helping them out to become a brand name in the market.
Previous Events
EDP- Entrepreneur Mela 2021.
EDP Entrepreneur Mela was held on 21st March 2021in collaboration with Dukan who were their venue partners and also at that time were their web store launching partner.
EDP Entrepreneur Mela was held in Rangoonwala Centre Dohraji in Karachi from noon till 7 pm. At the event, EDP  had 70+ stalls for women entrepreneurs to showcase their work. They had a great variety of fabric designers, jewelry experts, artists, cosmetics, footwear, crafts, books and toys stalls.
In one day, following all the SOPS of Covid, the footfall was above 3000 clients. The highest seller earned around 45,000/- in one day by show casing her designs specially catered to children's wear.
They had a small award ceremony where they gave participants an award and giveaways for their mentorship programs. Each seller was given a giveaway bag with the items sponsored by different brands.
EDP- Family Festival 2021.
Their second event, EDP- Family Festival, was a two day event which was held at PIA Planetarium from 02-10 pm in collaboration with Sports and Youth Affairs Sindh & Karsaz Education Welfare Organization (KEWO).
The footfall was above 8000 for two days. Highest seller earned around Rs 70, 000/- in two days and had a stall of Women's Clothing.
They invited Secretary to CM (Sports & Youth Affairs Sindh), Mr.  Akhtar Inayat, who visited our exhibition along with celebrities who purchased items from their stalls.
EDP- Entrepreneur Mela 2022.
EDP's third event EDP Melo 2.0 was organized at EDP Entrepreneur Mela 2.0 on Sunday, March 27, 2022 at Rangoonwala Community Centre Dohraji, Karachi and our slogan was "Eid se Pehle Eid ki Shopping", They had 70+ stalls in this mela with a foot fall between
4000-5000 customers.
Event of Entrepreneur Divas of Pakistan on February 5th 2023.
Entrepreneur Divas of Pakistan & DASC Sunset Club proudly presents EDP MELA 3.0.
This year 2023, they are gearing up for upcoming Entrepreneur Mela. At the event, they are organizing 70+ stalls for entrepreneurs to showcase their business. The stalls include clothing, jewelry, artists, cosmetics, footwear, handicrafts, books, kid toys, organics products, home décor, kids activity, food stalls and much more.
There are lot more exciting news to follow, Mark your dates for this Event and do follow Brand Voice for more upcoming details.
Also get updates from their Social Media Page:  (15) Entrepreneur Divas of Pakistan | Karachi | Facebook