Apple's M1 Chip: What You Need To Know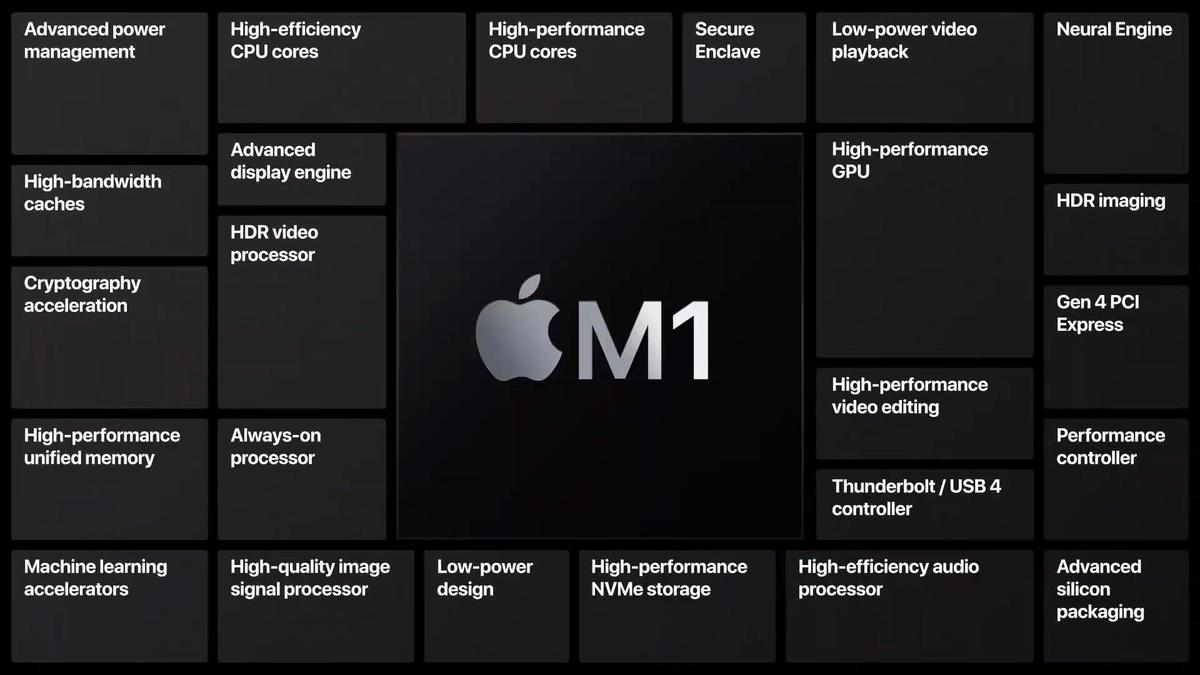 Just as few people bother to look under the hood when shopping for a new car, most consumers don't worry much about the processors that power their new laptops. In both cases, though, the "engines" enabling these devices can make a big difference in how they perform and what they can do.
The launch of a new range of Apple MacBook laptops and desktops, built around Apple-designed chips that leverage technology from a UK-based company called Arm, is worth a bit of analysis.
It's important to remember that the Arm-based processor technology in Apple's new MacBook Air, MacBook Pro and Mac Mini is the same basic technology that's found in iPhones, including the new iPhone 12.
The new M1 chip in the various Macs that Apple just announced is more powerful than the A14 Bionic chip used in the iPhone 12 line (it has 8 CPU cores vs. 6 in the A14, for example), but they're conceptually similar in many ways. The practical benefit of this is that these are the first Macs that have the ability to run iOS applications originally written for iPhones and iPads.
Of course, a critical difference is that, unlike iPhones and iPads, these Macs don't have touch screens, making the process of interacting with these applications different, and likely, not quite as intuitive.
The M1 Chip:
Using Apple Silicon in Mac also means that the iPhone and iPad applications can now run on Macs. This saves a lot of hassle that older MacBooks and Mac computers used to face. The M1 Chip has about 16 Billion Transistors in it, and Apple says it's specifically designed for Mac systems.
The usage of this Chip in MacBook Pro and Air have given better battery performances. At the heart of the chip is an 8 – Core CPU with 4 of high performance and four high efficiencies. The high-performance ones provide immensely high performance for single-threaded tasks.
Apple also mentioned that the high-efficiency cores do work while consuming only a tenth of the power. These cores are, allegedly, so powerful, they rival the Intel Dual-core performance of MacBook Air!
Apple's Place In The World:
The M1 Chip also features an 8 – Core GPU built inside it too. This makes the M1 Chip able to handle difficult tasks with absolute ease. They claim that the M1 has the world's fastest integrated graphics on a personal computer.
This new product has put Apple quite forward in the Mac game. Where Intel cores were being used, Apple Silicon has now entered the arena!
Neural Engine:
Apple also mentions the presence of a Neural Engine inside the M1 Chip. This Neural Engine features a 16 – Core design that can perform 11 trillion operations per second. Think of this as something designed for Machine Learning tasks!