Anwar Maqsood's New Show with Yasir Hussain is Making Fans Yearn for Moin Akhtar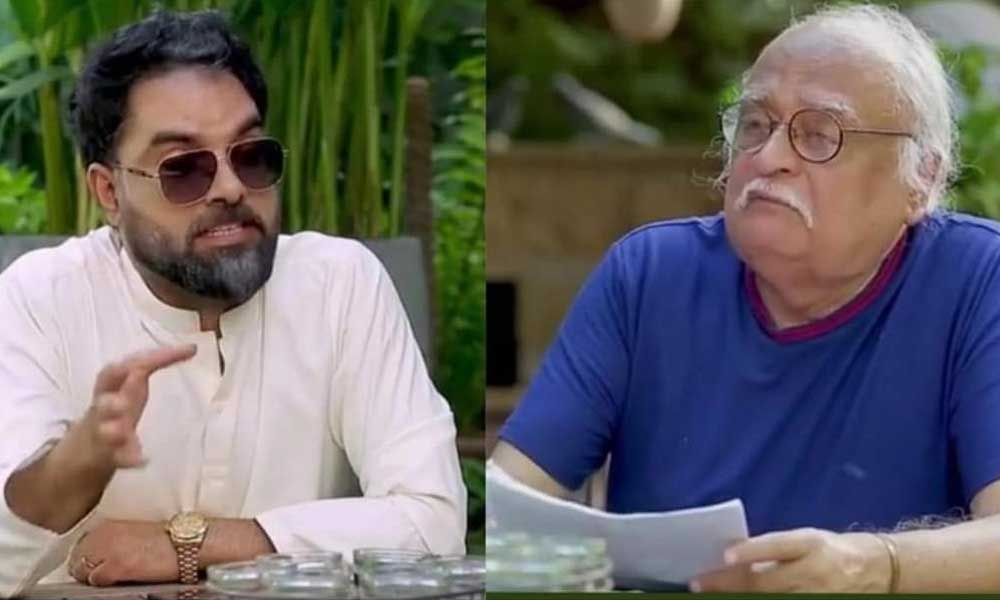 Legendary comedians Moin Akhtar and Anwar Maqsood were like two peas in a pod. Pakistani showbiz has not seen such a seamless pairing of two thespians who were both at the top of their game in their heydays. To this day, Pakistanis really miss their biting yet sharp commentary on current issues. Their most famous production Loose Talk remains a household name, given Moin Akhtar's top-notch mimicry skills coupled with socially-conscious questions posed by his co-star Anwar Maqsood. It's a formula that resonated with Pakistanis, and continues to endure to this day.
However, Pakistan lost Moin Akhtar almost a decade ago, and things have not been the same since then.
Maqsood's latest project with actor Yasir Hussain is drawing a lot of comparisons with the production that was Loose Talk.
The Anwar Maqsood and Yasir Hussain show
A new talk show featuring Anwar Maqsood and Yasir Hussain has become the talk of the town. Sponsored by Sensodyne, the show Mere Aangan Se has raised some eyebrows. People are finding close similarities to the scriptwriter's old show Loose Talk.
While Yasir Hussain is a talented actor, he is what most people would call a controversial figure. Due to his opinionated nature and outspoken personality, the Jhooti actor isn't someone who strikes as a fan-favorite with Pakistanis.
Let's take a look at what these netizens have to say:
2020 is really a cursed year. Anwar Maqsood is starting a new show which basically has an Legendary Program "Loose Talk" Theme. This is an insult to Moin Akhtar on so many levels. NO ONE CAN REPLACE HIM . EVEN WORSE REPLACING HIM WITH YASIR HUSSAIN 🤢🤢🤢 pic.twitter.com/iABBAXEPRe

— Farhan Zaheer Khawaja (@fzk_94) November 23, 2020
Please tell me it's a lie pic.twitter.com/Pcbuy3uhwK

— الکاظمی (@abdur_rehman26) November 25, 2020
Have anything to say about this piece? Share your thoughts in the comments section below!