7 Must See Patriotic And Touching Independence Day Ads
Ads evoking a sense of emotion or patriotism are always enchanting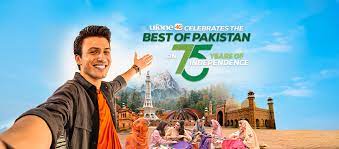 Companies will often never try to lose a chance to use a day as favourably as Independence Day to advertise their products or services. Overlapping the flag colours over or near the ad is an oversimplified way of advertising. But ads evoking a sense of emotion or patriotism are always more enchanting. Ads as such also stand a chance of being watched repeatedly.
Below lies are 7 examples of such adverts:
1. Habib Metro Bank
Habib Metro Bank, in its campaign, highlights the highs and lows, the struggles, and the resilience of Pakistan and what the nation went through collectively in 75 years.
2. UBL Bank
UBL celebrated 'Azaadi ka Jashan' with black and white snippets from 1947 to cool and comical highlights from the present with an upbeat song congratulating the nation.
3. Oreo
Oreo used their cookies to offer a visual aid for the Azaadi campaign. The campaign highlights the significant locations and cultural heritage sites in Pakistan using oreo biscuits, the ad is fun and light-hearted.
4. PSO
Honouring the strength, love, and dedication it took for Pakistan to come through all these years, PSO highlights the notion of unity, strength, and discipline in its Azaadi campaign.
5. GulAhmed
The GulAhmed's ad shared the message of collective need to work for Pakistan regardless of whatever sect and culture we belong to, to set aside the cultural differences and to remember Pakistan above everything.
6. Ufone
Ufone debuted the most upbeat and fun ad for independence day, raising a question we often ask ourselves. 'Is there anything good in Pakistan?' A carousel then starts, which shows what Pakistan has to offer with the background vocals of none other than Sajjad Ali.
7. National Bank Of Pakistan 
Showcasing the theme of resilience and perseverance, the ad channels the true spirit of Pakistanis regardless of the circumstances life throws at us.
Which one is your favourite? Let us know in the comments section below.